What does the coffee fanatic do during a recession? On the surface, it appears there are 4 choices.
Do nothing differently. Cut spending elsewhere. Let the dog eat generic chow while you are sipping on your Cup of Excellence coffee.
Cut back on the QUANTITY of coffee. Have one less coffee a day.
Cut back on the QUALITY of coffee. Goodbye local roaster, hello canned coffee.
Start roasting your own coffee. Brilliant idea!
Option 1 is the first line of defense. But what if you've already cut back your expenses in other areas? Option 2 is the most efficient method, but it requires the most discipline. Option 3 is just wrong. Never sacrifice quality. That leaves us with Option 4. Let me go through the numbers and show you how much money you could save by home roasting your own coffee.
Before I go through the numbers, I need to say that home roasting coffee is super easy and there are many businesses that sell green coffee beans. For help on getting started with home roasting, look over the Roasting Coffee section. It has many tutorials and articles to get you started.

Green Coffee Beans
Now for the economics. Many different varietals of unroasted green coffee can be purchased for $5-$7 a pound on the Internet. Note that this is not a wholesale price, but a way individuals can buy sizes of one to five pounds. For this example, I will use $6 as my one-pound price. Island and award-winning coffees will cost more. Some beans will be less. Buying larger sizes at one time will also reduce your costs and sometimes your shipping expense.
When a pound of coffee is roasted, it will lose 15-20% of its weight. This means a pound of unroasted coffee does not equal a pound of roasted coffee. For this example, I will use 17.5% weight loss.
The next expense to consider is the cost and expected life of the roaster. Home coffee roasters are not immortal. Home coffee roasters range in price from a $2 oven tray to over $1,000. I've roasted coffee using many different methods, and even though roasters are built much better today, I still allow for a 50-cent per pound depreciation on the roaster. Some roasters are tanks and will last much longer. Some are duds and will have a shorter life. Other home roasters have disagreed with my 50 cents number as being too much. I'd rather err on the conservative side. The takeaway point is that a home coffee roaster has a finite lifespan.
| | |
| --- | --- |
| Green Coffee Price per lb | $6.00 |
| Weight Loss | 17.5% |
| Roasted Price per lb | $7.19 |
| Roaster Depreciation per lb | $0.50 |
| True Coffee Price per lb | $7.69 |
* I did not calculate electricity, because the fuel cost of getting to and from a coffeehouse for most people will be greater.
In the home roasting example above, coffee is 48 cents per ounce. Here in Seattle, I would estimate the roasted coffee price is double that. If a family consumed 1 lb of coffee per week, home roasting their own coffee would result in savings of about $400 a year.

Lyman Kona Extra Fancy Green Coffee Beans
If money was really tight, there are places that sell green beans for lower than $6 a pound. You can find beans in the $4-$5 price range. There are also green bean cooperatives that pool the resources of many home roasters so they can buy beans at wholesale prices, which are even lower. From the interview Meeting Up With The Green Coffee Buying Club:
So a typical nice Ethiopian Harrar for example might come in at $2.50/lb. So on 15 lbs, the coffee is $37.50, shipping is about $10, and the "PayPal, insurance, & packaging fees" are about another $10. So $37.50 + $10 + $10 = $57.50/15 lbs = $3.83/lb, or about $4/lb in round numbers.
Should you roast your coffee? That depends on what your time is worth, how much coffee you drink, how tight your budget is, and if it sounds like a fun hobby. Also, roasting coffee for friends makes an excellent and memorable gift. Unlike that $15 bottle of wine, they will be eager to consume your home-roasted coffee the very next day.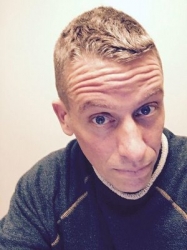 Latest posts by Michael Allen Smith
(see all)