I know several people who don't like coffee. I'm OK with that. But every so often I'll meet someone that after learning about my love for coffee wants to rant to me about how awful the beverage is and that they would never drink it. I learned how to respond to these people one day during my junior year of high school.
I was sitting in a study hall when a fellow student sat down next to me. This guy was known to smoke lots of pot, or so I thought, yet there on the cover of his Trapper Keeper notebook was a huge DARE sticker. DARE is an anti-drug educational program for kids. The fact Mr. Pot Smoker had this sticker on this notebook struck me as odd, so I pointed at the sticker and asked him about it.

DARE sticker
He responded to me with dead seriousness and stated: you shouldn't do drugs. Then after a long pause, he smiled and said "more for me". I learned an important lesson that day. Whenever someone starts preaching to me about the evils of coffee, I just smile and say "more for me".

Monkey Latte Art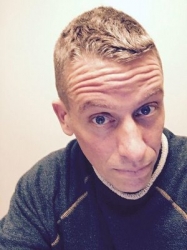 Latest posts by Michael Allen Smith
(see all)