While researching a new electric kettle online, I stumbled on the reviews of my current hot water heat: Bodum 5410-03USA Mini Ibis Electric Water Kettle. Although there were various criticisms, the bulk of the complaints were related to the defective switch. I've owned one for years and I knew exactly what they were talking about. I have an easy workaround.
First, let me describe the problem. After you are finished using the kettle, you place it back onto its holder. Only now you don't want to heat water, so you don't want it to switch on. The switch should stay down. It doesn't always stay down and as some reviewers indicate, it goes into a flickering mode. Eventually, the switch gets worn out and the kettle stops working.

Don't store your Ibis Electric Water Kettle like this when not in use.
If you want a long life out of your Bodum Cordless Electric Kettle, my advice is to only keep the kettle on the stand when it is heating water. Set it sideways when you aren't using it. Mine has lasted years. The one I donated to my office died quickly because people returned it fully on the stand when not using it. The switch eventually gave out and it had to be thrown away.

Store Ibis Kettle Sideways to extend its life.
Resources
The Hamilton Beach Cool Touch Tea Kettle Review – This is the kettle I bought to replace my Ibis.
Avoiding Plastic – 3 Stainless Steel Electric Kettle Options – An overview of 3 different tea kettle options.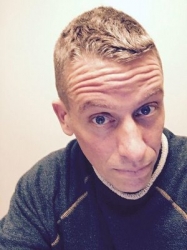 Latest posts by Michael Allen Smith
(see all)