INeedCoffee has been keeping track of the best coffee gear since we first went online back in April of 1999. This list of essential coffee gear is always being updated. Bookmark the page for future reference and thank you for your support.
For most of the gear listed on this page, we have tutorials, which can be found in our Coffee Brewing Guide.
---
Pour-Over Coffee Brewers
For all pour-over methods, you will need a kettle to heat your water.
#1 AeroPress Coffee and Espresso Maker
Penny for penny, we believe the AeroPress is the absolute best coffee brewer to own. There are countless ways to make coffee with this simple brewer and we have two tutorials to help guide you.
Aeropress Coffee and Espresso Maker

#2 Bonavita Dripper or The Clever Dripper
These two full-immersion coffee brewers are very similar. The Bonavita Dripper is ceramic and uses a latch to release the coffee, whereas the Clever is made from BPA-free plastic and uses the lip of the coffee mug to release the finished coffee. Both are outstanding options and are ideal for someone that wants the richness of a French Press without the loose grounds. Both use a paper filter.
Bonavita Coffee Dripper
Clever Coffee Dripper

#3 The Chemex
Be sure to get the proper filters for this classic coffee brewer.
Chemex Coffeemaker

Chemex Coffee Filters

Able Kone Coffee Filter for Chemex

#4 Eva Solo (Cafe Solo)
Think of the Eva Solo as an upside-down French Press only with a finer filter. It makes a very rich coffee with a taste brighter than a French Press.
Eva Solo

#5 French Press
There are numerous options when it comes to the French Press. See our article Buying a French Press – Picking the Right One for detailed advice.
Bodum Brazil French Press

#6 Kalita Wave Dripper
The Kalita Wave Dripper is a pour-over coffee brewer that uses a flat bottom design for a more even extraction. Be sure to purchase the special filters if you get this coffee brewer.
Kalita Wave Dripper

#7 Java Maestro Pour Over Coffee Dripper
A stainless steel pour-over filter that does not require paper filters.
Pour Over Coffee Dripper by Java Maestro

#8 Nee Porcelain Coffee Dripper
A ceramic coffee dripper that uses standard #2 size filters.
Nee Porcelain Coffee Dripper

#9 The Gabi Drip Master
A flat-bottom pour-over brewer that manages the flow of water onto the coffee.
The Gabi Master A, Drip Brewed Coffee Maker
#10 The Hario V60
Hario V60 Ceramic Coffee Dripper

---
Automatic Coffee Brewers
Automatic coffee brewers are perfect when you want the brewer to do all the work. They also tend to make larger volumes of coffee.
#1 Bonavita Carafe Coffee Brewer
This is an amazing drip brewer. Brews at the right temperature and the carafe keeps the coffee warm for many hours.
Bonavita Carafe Coffee Brewer
#2 Technivorm Moccamaster
The Rolls-Royce of automatic coffee makers.
Moccamaster KBT 10-Cup Coffee Brewer with Thermal Carafe
---
Cold Coffee Brewers
There has been a lot of innovation in the design of cold brew coffee makers in recent years. Here are a few of our favorites.
#1 Primula Travel Bottle Cold Brew Coffee Maker
This is the perfect grab-and-go solution to cold brew coffee.
Primula Brew Travel Bottle Cold Brew Coffee Maker
#2 Penguin Coffee Cold Brew Coffee Maker
This is the cold brew I use the most. I love the filter and ease of clean-up.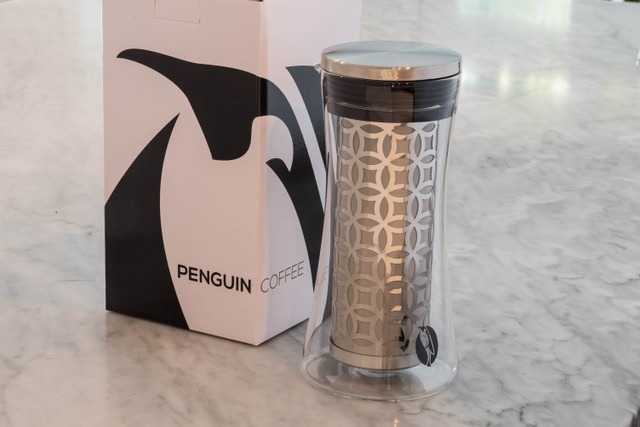 Penguin Coffee Cold Brew Coffee Maker

#3 Reusable Cold Brew Coffee Filter Pouch by Madesco
Pure simplicity. Madesco makes a pouch brewer. Perfect for camping, traveling, or home use.
Reusable Cold Brew Coffee Filter Pouch

#4 Cold Brew Dripper by Osaka
This technically isn't cold brew or iced coffee. It is somewhere in between and if you are patient, it makes an amazing cup of coffee.
Cold Brew Dripper

---
Traditional and Vac-Pot Coffee Brewers
Here are a handful of coffee brewers that don't fit neatly into the other categories.
#1 Yama Glass Stovetop Coffee Siphon
Yama makes an affordable vacuum-pot coffee brewer.
Yama Glass Coffee Siphon

#2 Ibrik (Turkish / Greece Stovetop Coffee Pot)
An ibrik is used to make coffee in a style that is popular in Turkey and Greece.
Turkish Ibrik
#3 Stovetop Espresso Maker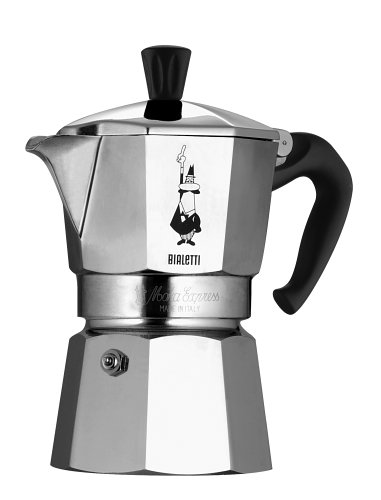 Bialetti Moka Express Espresso Maker, 6 Cup

---
Electric Kettles
An electric kettle is an essential part of making coffee.
#1 Bonavita Electric Kettle, Gooseneck Variable Temperature
A temperature-controlled electric kettle with a gooseneck spot makes it perfect for both pour-over and all types of tea. A must-have.
Bonavita Electric Kettle

---
Coffee Grinders
Grinding coffee at home is essential for excellent coffee. Below are three options at different price points from less expensive to more.
#1 Baratza Encore – Conical Burr Coffee Grinder
If you are looking for the best coffee grinder under $150, that would be the Baratza Encore. Stop using that blade spice grinder and get your first real coffee grinder.
Baratza Encore Coffee Grinder

#2 Baratza Virtuoso – Conical Burr Coffee Grinder
The Virtuoso is the upgraded model to the Encore. It is better built and should last longer. This is the grinder I see most of the high-end coffee shops in Seattle recommending to their customers. It will do a better job than cheaper grinders and last longer as well.
Baratza Virtuoso Coffee Grinder

#3 Rancilio Rocky Espresso Coffee Grinder
This grinder rules. It does a superb job with espresso. I own the Doserless and my friend has the Doser. Both are excellent. If you will only use it for espresso and you don't plan on switching blends frequently, the Doser might be for you. I use my grinder for other things besides espresso, so I got the Doserless. Mine is still going strong 10 years after purchase.
Rancilio Rocky Espresso Coffee Grinder
---
Espresso Machines
At first glance, espresso machines may seem expensive, but they pay for themselves rather quickly. It doesn't take many days of saving $5 at a coffee shop before you've fully paid for a quality espresso machine. A good espresso machine will also retain value, should you need to sell it on Craigslist or eBay later.
#1 Rancilio Silvia

Rancilio Silvia Espresso Machine

#2 Breville BES870XL Barista Express Espresso Machine
The Breville has a built-in coffee grinder, which is ideal if kitchen space is limited. Breville labels their espresso machines as "Sage by Heston Blumenthal" in the UK.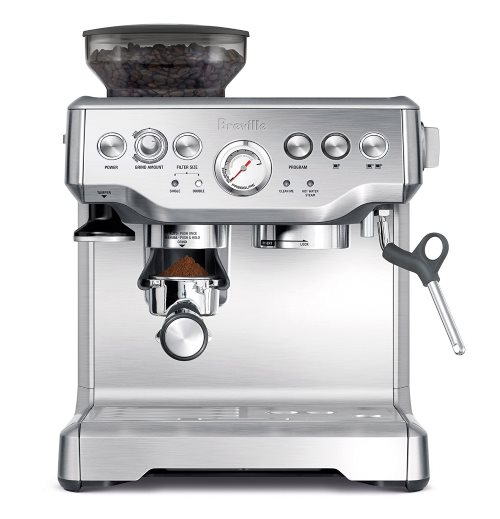 Breville BES870XL Barista Express Espresso Machine

---
Home Coffee Roasters
Roasting your own coffee at home is an amazing and enjoyable hobby. If you have a patio or a room with ventilation, here are a few options to get you started on home coffee roasting.
#1 Behmor 1600 Plus
A customizable drum roaster that doesn't produce much smoke at all.
Behmor 1600 Plus Customizable Drum Coffee Roaster

#2 Westbend Poppery Popcorn Popper 1500 Watts
The original Westbend Poppery didn't make great popcorn, but early coffee pioneers figured out it was an excellent tool to roast coffee. For beginners, I still recommend the Poppery. It is not an indoor roaster. The prices may seem high on eBay, but the money you will save by roasting your own coffee will more than pay for the popper. You can roast in the Poppery 2, which holds less coffee and has less power, but it is not nearly as good as the original 1500 Watt version.
---
Other Coffee Gear
The final section is for our supporting tools.
#1 Hario Coffee Drip Scale/Timer
Many of the tutorials on INeedCoffee use grams. We like to use grams because measuring by volume is less precise with coffee because as coffee beans roast they expand and lose weight. Hario makes a popular scale, however, most decent gram kitchen scales will work fine.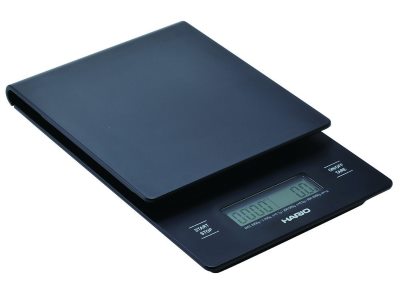 Hario Coffee Scale