As soon as we released Coffee Mugs of Coffee Fanatics, Both INeedCoffee and Paul over at the Caffination podcast received more mug submissions. I really didn't expect to have a Part 2 so soon. Without further introduction, below are more Coffee Mugs of Coffee Fanatics.
Alex Scofield, Cape Cod
During a transitional stage in life, this is my go-to mug. My wife and I moved from the Washington, D.C. area to Cape Cod several months ago. Ordinarily, I drink my coffee from a 20-oz. mug with the old-school New England Patriots logo on it. But that mug, like so many of our belongings, remains in storage as we look for a more permanent place to live. In the meantime, this mug does the trick — it may not be a design I'd pick out for myself, but it's pretty appropriate for the Cape. More importantly, it also holds 20 ounces of coffee.

Alex's Mug
Ryan Jacobs, Columbus
My travel mug fits perfectly in my car, allows for great flavor since it is ceramic and gets cleaned without leaving a soapy residue. The only complaint is that the handle is a bit awkward.

Ryan's Mug
Mike Rohde, rohdesign.com
This favorite mug was given to me on Father's Day 2007, featuring a photo of my son Nathan and I in matching yellow shirts. This is a favorite for enjoying a cappuccino, alternating with my Penguin mug.

Mike's Mug
Mike has more favorite mugs which can be viewed on his Flickr Coffee Stuff Set.
Geoff Manning
Geoff had the Daddy Rockstar mug made at the Cafe Press store for his Daddy Rockstar blog.

Daddy Rockstar Mug
Michael Long, Michael's Technology News
The story behind this mug is that it's my favorite mug. I like it because it also comes with a heated warmer (not shown) that plugs into the cigarette lighter of your car/truck.

Michael Long's Mug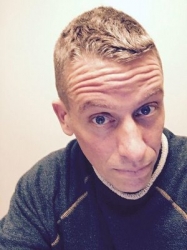 Latest posts by Michael Allen Smith
(see all)