2017 UPDATE: We have completely updated this article. Check out A Coffee Drinker's Guide to Coffee Candies. 
As a coffee fanatic, I've often looked for ways to extend my love of coffee and placate my sweet tooth at the same time. So, I've taken to eating coffee-flavored candy. It is worth noting that there is no such thing as a coffee flavoring that is completely man-made. All coffee flavoring is derived from coffee because the taste of coffee is just too complex to be replicated accurately. But just because it is derived from real coffee does not mean that all coffee candy is created equal.
Pocket Coffee
This candy starts out with a caramelized sugar pocket for a sweet espresso liquid. The caramelized sugar is coated with European milk chocolate. The manufacturer (Fererro) claims that eating three pieces is equivalent to a shot of espresso, and I have to admit that I got a buzz off of the candy. I brought it into work to share with co-workers. They loved it and asked for more.

Review for Pocket Coffee: Fantastic!
Coffee Rio
The consistency of this candy is similar to chewy caramel. It sticks to your molars and tastes like a cup of coffee with lots of cream and sugar. This candy can be purchased by the bag at specialty grocery stores.

Review for Coffee Rio: Very Good
Rademaker's Hopjes
This is a little hard candy from Holland. It's pretty tasty. The coffee flavor is evenly distributed throughout the candy and it tastes a little like a Frappuccino. Getting this candy can be a little tricky, I stumbled upon it at a local coffee shop.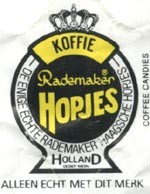 Review for Rademaker's Hopjes: Good
Brach's Coffee Candy
This hard candy smells like coffee and is colored like a cup of weak coffee, but it tastes absolutely nothing like coffee. This candy is gross, I spit it out before finishing the piece. You can find this candy at your local supermarket in the Brach's bulk candy display.

Review for Brach's Coffee Candy: Yucky
Rocket Chocolate
This candy is marketed "for adults only" and claims to boost like a cup of coffee. It has a gunk-filled center surrounded by low-grade chocolate. It's lousy; stay away from this brand. Trust me, you don't want to try this candy, so locating it shouldn't be a concern.

Review for Rocket Chocolate: Horrible
Resources
A Coffee Drinker's Guide to Coffee Candies – Our updated guide to Coffee Candies.
Latest posts by Rachel Elliot
(see all)