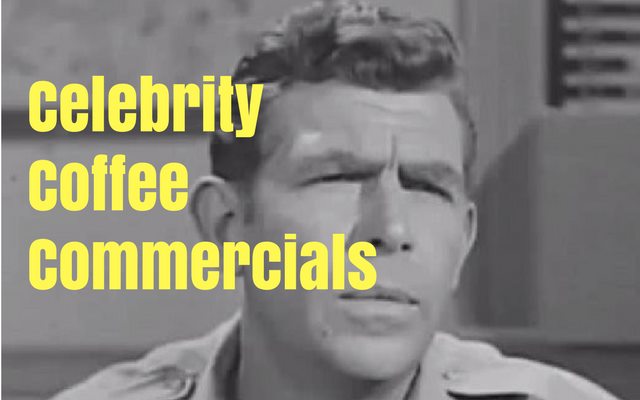 Recently, I was feeling a little nostalgic and trying to remember the jingle from the Chock full o' Nuts coffee commercial from the 1970s. My mom used to add coffee to my milk when I was a kid because I loved the taste so much. My love affair with coffee still continues today. I love the taste, and in moderation, I love how it makes me feel.
Thanks to YouTube, I was able to find the Chock full o' Nuts "Heavenly Coffee" jingle as well as a bunch of unusual, sexist, and entertaining coffee commercials featuring various celebrities, across several decades, and shot in different countries.
Chock full o'Nuts 23rd St. Store Front Loop Proof
This is a commercial for Instant Maxwell House with Andy Griffith and Ron Howard from the 1960s. This reminded me of a time when there were only seven channels to watch. "The Andy Griffith Show" was one of my regular programs, but mostly because there was nothing else on.
1960s INSTANT COFFEE COMMERCIAL ANDY GRIFFITH
Here's a sexist Folger's commercial from the 1970s starring Stephen Collins very early in his acting career. Quite the different persona from his "Seventh Heaven" t.v. show from the 90's.
This 1970's commercial for MJB coffee, a regional brand, features a young Teri Garr. She gave entertainment value to an otherwise incredibly boring commercial.
Teri Garr doing a Coffee Commercial – 1970s!!!
Here's a youthful Scott Bakula for Decaffeinated (ugh!) Folger's coffee. I'm hoping that he was able to "Quantum Leap" to a real cup of coffee after shooting this commercial.
Scott Bakula Folgers Coffee Commercial
A refined Edward G. Robinson added his cache to this Instant Maxwell House commercial.
EDWARD G ROBINSON – VINTAGE MAXWELL HOUSE COFFEE COMMERCIAL
These celebrity coffee commercials were shot in other countries, where well-known American actors could hopefully avoid public scrutiny and potential nicks to their careers.
Paul Newman for Maxwell House (Japan)
Maxwell House Commercial Paul Newman 1980
Tommy Lee Jones for Boss Coffee (Japan)
Ping Pong Master Tommy Lee Jones Boss Coffee Commercial
George Clooney and John Malkovich for Nespresso (Switzerland/France)
Nespresso Taxi Driver John Malkovich George Clooney
The road to stardom for many successful actors seems to have been paved with hard work, humbling resume-building jobs, and lots of coffee grinds!
YouTube surfing down memory lane satisfied my nostalgia, cured my mental block for the "Heavenly Coffee" jingle, and provided me with a small cup o' caffeinated entertainment.

Latest posts by Sue Zeger
(see all)