On May 1, 2009, the FDA has issued a warning on the Hydroxycut supplement line. From the FDA website: Warning on Hydroxycut:
FDA has received 23 reports of serious health problems ranging from jaundice and elevated liver enzymes, an indicator of potential liver injury, to liver damage requiring liver transplant. One death due to liver failure has been reported to the FDA.
Since ephedra was removed as an ingredient in fat loss pills, I kind of thought this supplement would disappear. Although it was one powerful stimulant, ephedra when combined with caffeine and a baby aspirin was a powerful thermogenic supplement. Too powerful for me.
Why people still bought an ephedra-free Hydroxycut amazed me. I guess dieters will always want a quick fix to their weight problems. After ephedra was removed from Hydroxycut, The Healthy Skeptic went through each ingredient in the supplement to see if still had any benefit and came to this conclusion.
Hydroxycut is a supplement that combines ingredients with dubious pedigrees with ingredients that may prove to be beneficial in some regard other than weight loss, topped off with stimulants.

Espresso at Neptune Coffee
As a coffee drinker, I always shake my head in disgust at these so-called fat-burning stimulants. Coffee is a tasty, zero-calorie beverage that gives one the energy to go for a run or lift weights. Why is this? According to Dr. Jonny Bowden:
The slight increase in blood sugar from caffeinated coffee is a boon for athletes…who need that blood sugar to fuel their muscles.
For years I've slightly increased my coffee intake in the mornings before I go to the gym. About 15 minutes before heading to the gym, I'll have a bonus espresso. It kicks in about the time my warm-up sets are completed. And if I'm too unmotivated to go to the gym, then I deny myself that espresso. Guess what? I rarely miss a workout.
Resources
The Healthy Skeptic: Hydroxycut – Weight Loss Supplement or Myth? – by Sal Marinello (2017: article no longer online)
Warning on Hydroxycut – FDA website
ECA Stack – Ephedra, Caffeine, Aspirin (Wikipedia)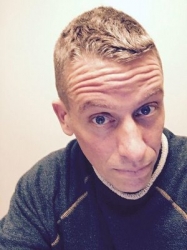 Latest posts by Michael Allen Smith
(see all)